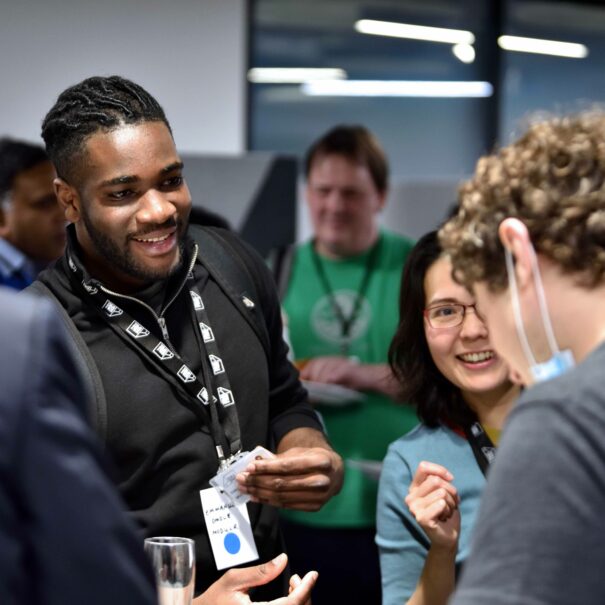 Blog: Upstream Partnership
Upstream is a partnership between Hammersmith & Fulham and Imperial College London. In the last four years, as part of H&F's Industrial Strategy, we have connected, supported and shone a light on the science, tech and creative sectors.
If you haven't already heard of us, you must have been hiding under a rock. Or, more likely, working from your kitchen table for much of the pandemic. Read on to find out more to make the most of your return to the office.
Why we exist:
Upstream's work is driven by the belief that local networks that facilitate collaboration and learning, in both planned and serendipitous ways, can accelerate the growth of organisations and places. Team Upstream's vision is for Hammersmith & Fulham to have an inclusive, thriving eco-system of ambitious science, tech and creative organisations with the White City Innovation District a global beacon of growth through innovation.
Our work has four key objectives:
I. Fostering professional connections
Upstream events allow organisations to connect with each other, to exchange knowledge, explore partnerships and business development opportunities, and meet new talent. They're also a great context to test ideas and try out new pitches.
How we do it:
1-2-1 meetings
Deep Tech Network (DTN) showcase & networking
Invitation-only cluster & functional roundtables
Digital Creative Network showcase & networking
II. Convening organisations that can solve common challenges better together
Some challenges are best tackled together, so we bring together organisations to solve them, removing the hassle of pulling together a 'coalition of the willing'.
How we do it:
Invitation-only cluster & functional roundtables
White City employee value proposition (EVP) group
III. Creating social and serendipitous opportunities for the community to interact
Personal connections, social proximity and serendipity play a massive part in business success and whilst some of us have battled with Zoom fatigue and Covid-caution in 2021, the Upstream community's demand for opportunities to connect is relentless.
How we do it:
Monthly Virtual Coffee Clubs (get your fix here)
Networking with every online and in-person event we run
IV. Shining a light on innovative science, tech, creative organisations and sign-posting assets and amenities
Find the person you need and meet them at a great place.
Profile-raising and banging the drums for organisations & the borough
Signposting and highlighting the connections that can be made here, thereby attracting more businesses.
How we do it:
Building organic support for White City Innovation District (WCID)
"My Entrepreneurial Journey" fireside chats – listen to the first one with local resident Greg Jackson, CEO of Octopus Energy here.
Podcast series – Discovery and Uplift series: catch up here
Think we can help you? Contact: hello@move-upstream.org.uk
Join the Upstream network as we help to connect people and organisations that can support each other to grow, to innovate, to achieve, to impact.