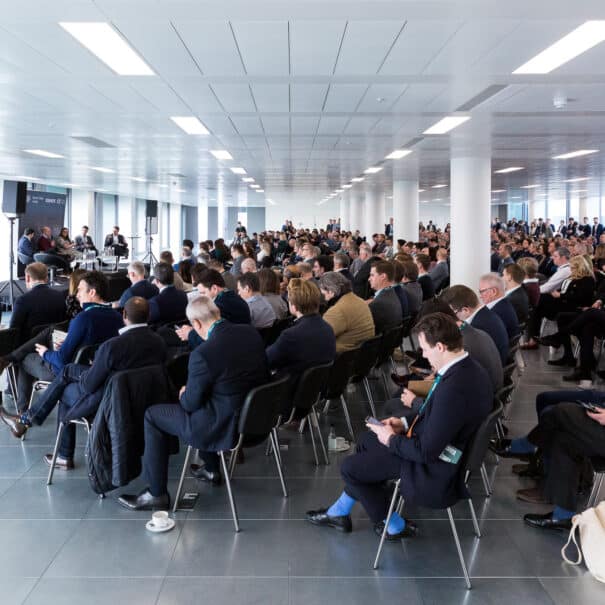 UK Life Sciences Real Estate Annual Conference returns to WCID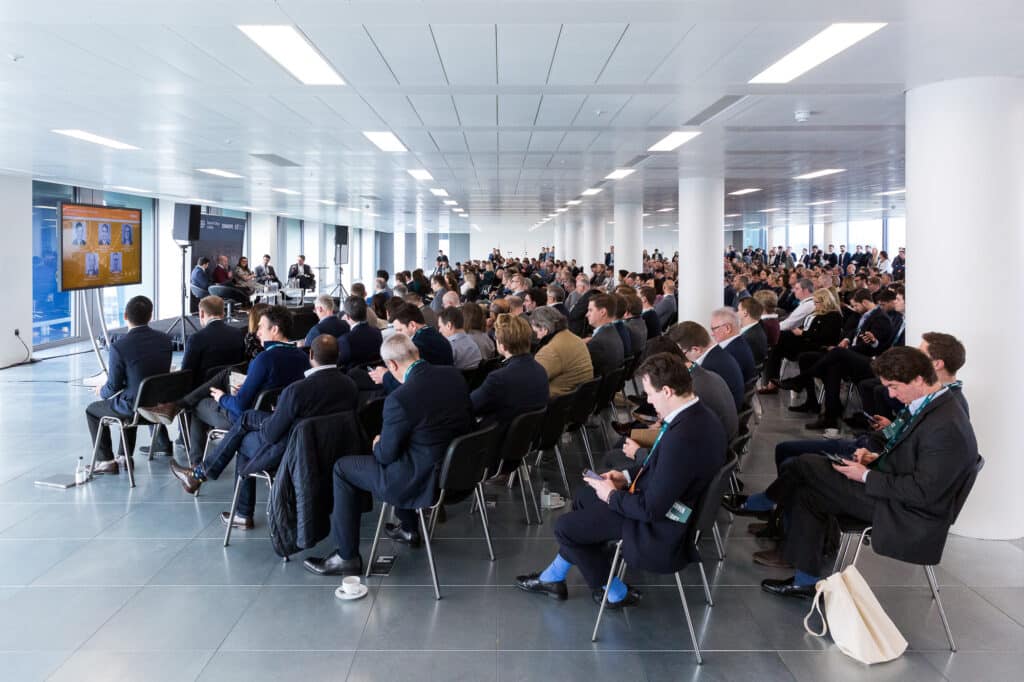 Bisnow's UK Life Sciences Real Estate Annual Conference 2023 made a much-anticipated return to White City Innovation District last week, as the event took centre stage at the I-HUB. Sponsoring partners Stanhope, Imperial College London, Cadillac Fairview and White City Innovation District welcomed over 500 attendees to White City, as this sell-out one-day event returned to the District for the second year running.
Building on the momentum of the sold-out 2022 conference at White City Place, this year's event delivered another exceptional turn-out, bringing together stakeholders including the UK's most influential investors, developers and businesses in life sciences to discuss supporting investment and growth through delivery of sustainable and flexible lab space and buildings. The event also shone a major spotlight on West London as a vibrant hotspot for life sciences, highlighting the continued investment in – and growth of – White City Innovation District.
The full-day agenda boasted an impressive span of industry leader speakers and expert panellists, who shared with the audience their insights and vision of where the life sciences sector is heading in 2023 and beyond. Key topics covered included the funding landscape; the UK construction and development pipeline; how to attract great life sciences talent; site selection, strategic design and distinctive identity; and, finally, how to create the innovative infrastructures needed to support the rapid growth of the exciting life science sector – firmly cementing the UK's status as a science superpower.
Imperial College London's Chief Investment Officer John Anderson and Vice Provost for Research and Enterprise Professor Mary Ryan spoke throughout the event, alongside partners including Claire Dawe, Head of Asset Management and Jonathan Trout, Property and Commercial Director at Stanhope, a property developer specialising in life science developments. Reflecting on the key ingredients for building successful life science ecosystems that can spearhead global innovation, John Anderson said: "You need density plus intensity to create great innovation districts like White City Innovation District, and you also need patience."
The mid-morning panel addressed evolving occupiers demands and how to attract life sciences talent. Presented by Stanhope, Imperial College London and Cadillac Fairview, panellists discussed the huge demand for lab spaces in London, the importance of understanding what talent wants, and how best to support small life sciences companies as they scale up. Stanhope's Claire Dawe noted: "What's become overwhelmingly obvious is the piece around talent. The employees of today are multigenerational, neurodiverse and want physically and emotionally supportive workspaces. Our role is to understand those generations and what they need."
Following Imperial College London's ambitious expansion across White City Innovation District –including the creation of the Molecular Sciences Research Hub and The Sir Michael Uren Biomedical Engineering Research Hub – a significant concentration of world-leading life sciences innovators has developed. Fast-growth life science businesses based within WCID include Novartis, Avacta, Takeda, Autolus, Engitix Synthace, Sixfold Bioscience, Medisieve, Vivan Therapeutics, Multus, Invox Pharm and many more. Attendees were able to take advantage of valuable networking opportunities throughout the day, plus guided tours of the District's impressive facilities and businesses, including those based at the I-HUB, and the WestWorks building at White City Place, situated next to the Gateway development which Stanhope hopes will attract exciting businesses with over 800,00 square feet of new office space.
Commenting on the success of the event, Professor Mary Ryan, Vice Provost for Research and Enterprise, Imperial College London, said: "We were delighted to host this important growth-focused conference at the I-HUB's state-of-the-art facilities, in the heart of our White City campus. The feedback from all those who attended has been outstanding."
She added: "The White City Innovation District is home to some of the world's most exciting organisations. It is a stand-out example of how building a world-class economic ecosystem can attract the best innovators and successfully drive investment and growth. By enabling a truly unique collaboration of academic, commercial, community and education partners, we are proud to be playing a transformative role in life sciences innovation. It was fantastic to have the opportunity to showcase this global centre of excellence to attendees at what everyone agreed was an extremely thought-provoking and hugely inspiring conference."
"You need density plus intensity to create great innovation districts like White City Innovation District, and you also need patience."

John Anderson, Chief Investment Officer, Imperial College London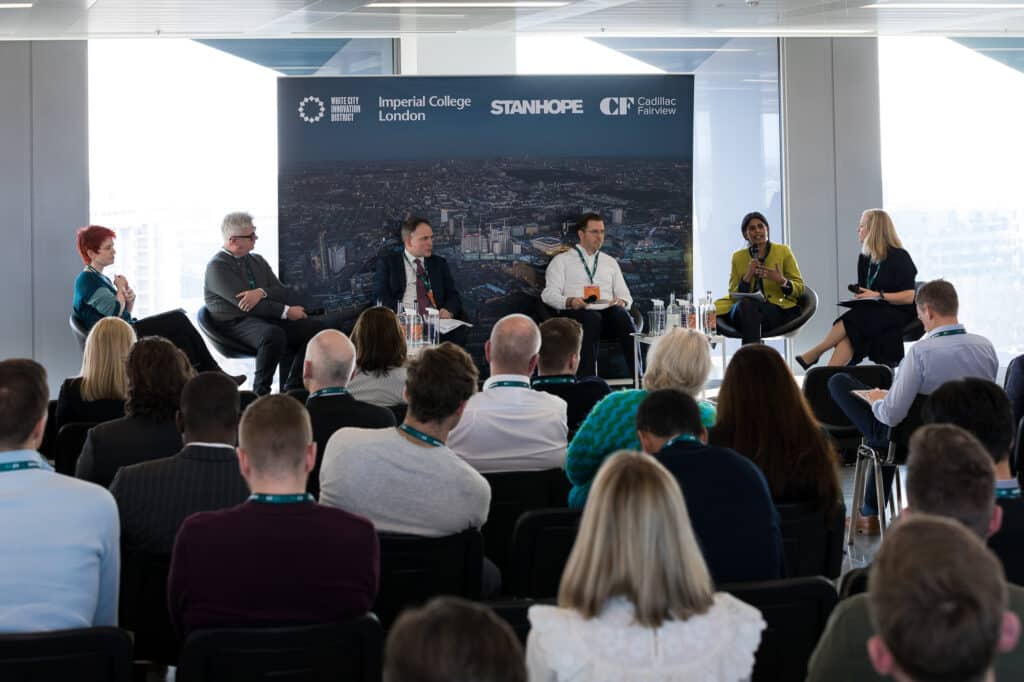 "We set out to create a fantastic place to be, work and live. The evolution of the district itself has been vitally important in putting White City on the map," commented Stanhope Property & Commercial Director Jonathan Trout during the Clusters & Collaboration panel. The session was moderated by Angela Kearns (Clifford Chance LLP), with panellists Suki Balenda PhD (North West London Clinical Trials Alliance, pictured speaking), David Height (Mitsui Fudosan UK), Jonathan Pickstone (Hammersmith & Fulham Council), and Professor Mary Ryan (Imperial College London).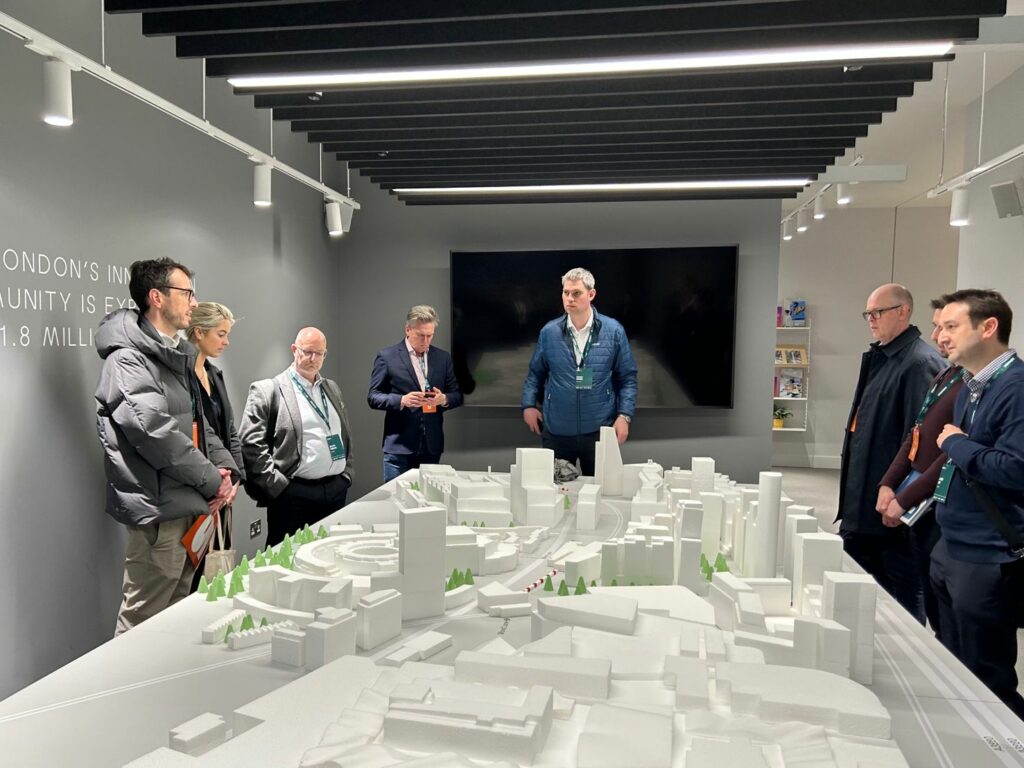 Stanhope's Senior Asset Manager James Hutchinson leads a lunchtime tour of Westworks, White City Place and its lab-enabled spaces.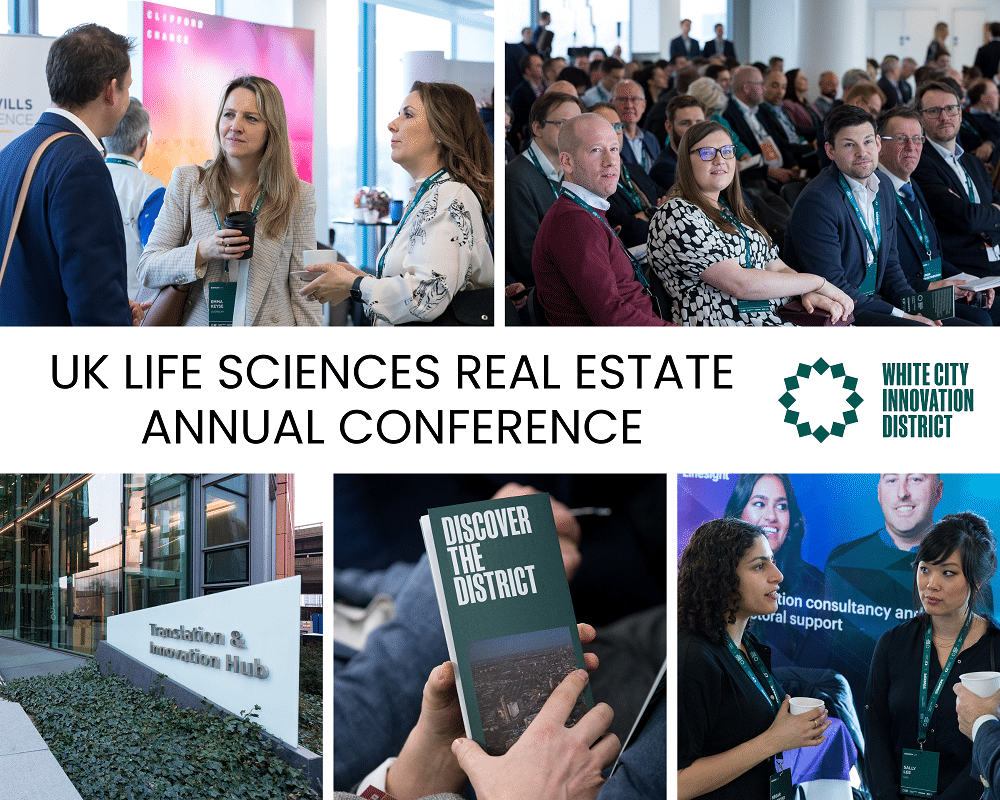 Discover White City Innovation District's Life Sciences Map – detailing opportunities for collaboration and access to specialist equipment and facilities – here.