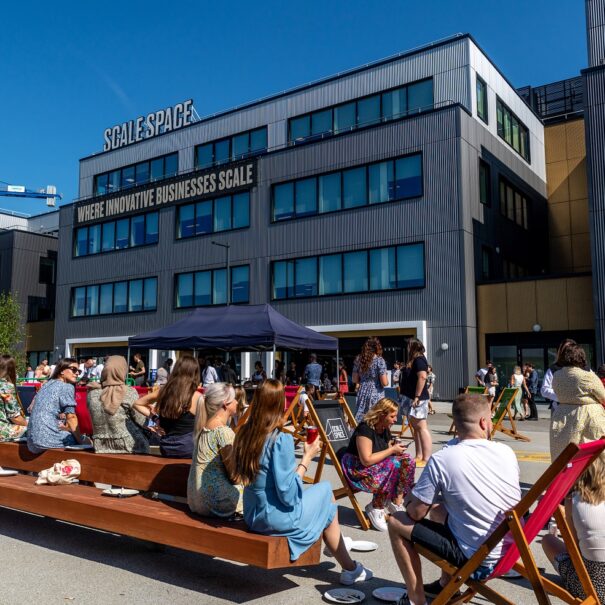 Scaling the life sciences boom: Scale Space steps up to meet the growing need for flexible, serviced lab space
The UK life sciences sector is booming, strengthening its position as one of the country's primary economic and innovation success stories. With this extraordinary uptick in growth have come challenges, including meeting the rising demand for lifescience laboratory facilities. MedCity's "London Life Sciences Real Estate Demand Report", published last year, highlighted the chronic shortage of accessible laboratory space across the capital, which has seen a four-fold increase in demand that has, until now, been unmatched by an increase in supply.
With London's wet laboratories now at capacity, the report starkly demonstrates how the acute lack of affordable and fit-for-purpose lab space for start-ups and fast-growth companies is rapidly becoming a key barrier to scaling-up and growth.
It's an issue that White City Innovation District's Scale Space was early to recognise, as Scale Space CEO Michael Holmes explains: "We became very aware that for smaller, growing innovation businesses, the investment required to fit out and provision lab space is prohibitively expensive, particularly for businesses that are not yet scaled up and fully established."
To help companies address these growing pains, and to resolve the supply and demand imbalance, Scale Space has created a suite of ready-to-occupy, fully-serviced laboratories within their White City footprint. The first laboratory modules quickly sold out, with fast-growth companies – including PhycoWorks, Impli, Eden Bio and Good Dog Food – set to occupy their new laboratory facilities from May 2022.
"What we're trying to do is to put all the ingredients together to position companies in need of lab space to be as successful as possible," says Michael. Traditionally, to secure lab space, businesses have needed to commit to a long-term lease and significant capex, but Scale Space's ready-to-occupy lab modules come with no capex requirements and with more flexible and attractive terms – a minimum 1-year commitment as opposed to 3-5 years plus.  He adds: "We also saw that in addition to offering the key elements of physical lab infrastructure such as access to gases and sufficient power, it was important to offer supportive wrapround services, including access to writeup space, meeting rooms, kitchen facilities, and more strategic services such as support with recruitment, learning and development opportunities for their teams, and access to networking events. Crucially, companies that join Scale Space become embedded within a highly engaged, supportive community from day one, nestled in the hotbed of talent that is the White City Innovation District, and on the doorstep of the world-leading institution and global innovation beacon that is Imperial College London. These are major competitive advantages for companies looking to scale up and maximise their potential."
Scale Space works closely and in partnership with White City Innovation District's i-HUB, which also offers lab space, enabling the two facilities to offer a range of different options to companies at different stages of growth. This new route to specialist lab space is set to grow in importance since, despite a number of commercial lab space projects expected, demand across the board is set to massively outstrip supply for the foreseeable future.
To explore how a Scale Space flexible lab space solution can offer a new path for your business growth, please contact hello@scalespace.co.uk.
"Any deep tech scaling start-up looking to create a standalone lab faces the risk of significant upfront capex and the long construction cycles associated with getting these installed – requiring something all start-ups are short on: time.
In an attempt to learn from our seniors who have won battle scars on the lab build out front, we decided to move to Scale Space – enabling us to create a laboratory designed to support our innovation and growth, while at the same time giving us the financial flexibility to protect our R&D budgets. The combination of the deal structure, alongside the building and landlord being supportive of a lab fit-out, and the thriving life sciences community in White City, made Scale Space the most compelling option for the next stage of Puraffinity's growth story."
Henrik Hagemann, Chief Executive Officer, Puraffinity