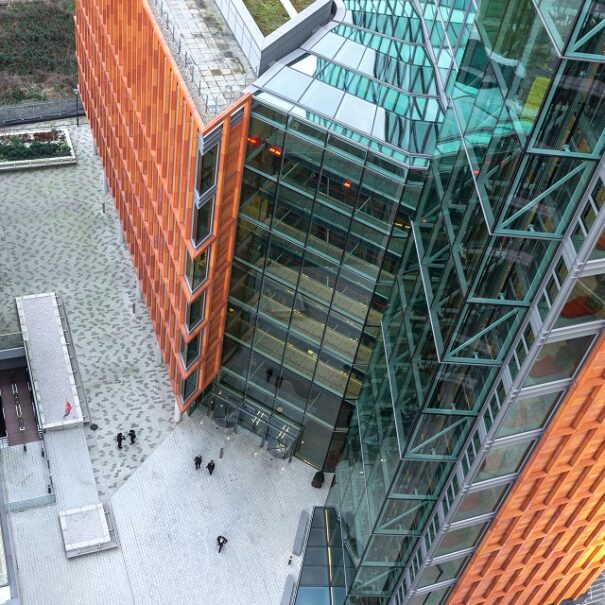 NEWS: WCID to host world-leading NATO Defence Innovation Headquarters
Through the work of Imperial College London's Institute for Security Science and Technology, White City Innovation District has been selected as the European HQ location of a programme to enable NATO allies to accelerate, test, evaluate and validate new technologies that address critical defence challenges and contribute to Alliance deterrence. The UK is partnering with Estonia on NATO's Defence Innovation Accelerator for the North Atlantic (DIANA) programme, which will deliver transatlantic cooperation on critical technologies and help NATO to work more closely with industry and academia and maintain NATO's technological edge.
Imperial College London will bring together academia, industry and government by hosting the headquarters of DIANA and a DIANA Accelerator at the Innovation Hub (I-HUB) in White City Innovation District, in a space shared with the UK's Defence and Security Accelerator (DASA), Major Defence Contractors and The US Department of Defence's Tri-Service Office. The UK's accelerator will be twinned with a new accelerator in Tallinn, Estonia to encourage the sharing of expertise, explore the use of virtual sites to trial vehicles, including autonomous ones, and test cyber innovations. Supported by DASA, the UK and Estonia DIANA HQ is expected to be operational from July 2022.

The DIANA programme – which is seen as essential to delivering the NATO 2030 vision – will support all seven of the key emerging and disruptive technologies that NATO has identified as priorities, namely artificial intelligence, big-data processing, quantum-enabled technologies, autonomy, biotechnology, hypersonics and space.
"The UK has a vibrant tech community, combining the academia, financiers, and high-tech start-ups that make it an ideal place to develop the next generation of military technologies."
UK Defence Secretary, Ben Wallace

"As one of the top STEM-B universities in the world, in one of the most diverse cities, Imperial College London is uniquely placed to power a progressive, responsible and holistic dual-use security and defence technology innovation program by hosting DIANA. Coordinated through our Institute for Security Science and Technology and Business School we're committed to working on disruptive research and innovation to reduce insecurity and to deal with global threats and challenges."
Co- Director, Institute for Security Science and Technology, Imperial College London, Professor Deeph Chana