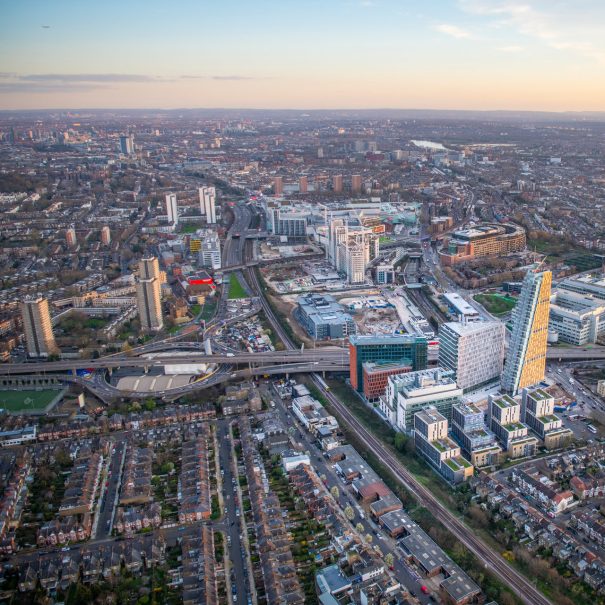 News: London's global innovation hub: official launch of White City Innovation District
Next phase of ambitious growth strategy for global centre of excellence – home to world's most innovative science, technology and creative organisations.
London, United Kingdom, March 22 2022 – White City Innovation District, the London-based transformative growth partnership supported by London Borough of Hammersmith & Fulham, Imperial College London and a growing community of enterprise and community stakeholders, today announces the next exciting phase in its ambitious strategy of accelerated expansion and brand development. The new digital home of White City Innovation District can be found at www.whitecityinnovationdistrict.org.uk
White City Innovation District is home to some of the world's most innovative organisations – spanning the life sciences, biotech, medtech, cleantech, engineering, cyber, quantum computing and foodtech – who, together with White City's local community, are firmly establishing this vibrant district as a major global economic and cultural hotspot. White City Innovation District's new digital presence will provide a key focal point to connect its growing network of over 100 co-located organisations, as well as a centre of gravity for residents, businesses, education providers and local community groups. Globally renowned organisations based in White City Innovation District include Novartis, Airbus, ITV, The Royal College of Art and L'Oréal. The District encompasses the Hammersmith Hospital Campus, BBC Television Centre, Scale Space, Imperial's Incubator and Translation & Innovation Hub (I-HUB) and School of Public Health (due to open next year), plus a wealth of world-leading innovation and business-building facilities. White City is now recognised as a leading cluster for European lifesciences research and innovation.
Commenting on the launch, Professor Alice Gast, President of Imperial College London said: "White City Innovation District is home to some of the world's most dynamic innovators. Like the early days of Silicon Valley, entrepreneurs are clustering with academics, established industry and a vibrant local community. Scientists, engineers, medics and business people are co-locating and co-creating on an unprecedented scale. This is creating opportunity, transforming lives and fuelling the next generation of innovators. This new digital hub brings together White City's whole innovation culture. It's a new marker for why ambitious and creative entrepreneurs and investors should join this thriving ecosystem."
Councillor Stephen Cowan, Leader of the London Borough of Hammersmith & Fulham added: "Our inclusive growth strategy for White City draws on the experience of economic eco-systems from around the world. The extraordinary collaboration between H&F as a public authority, Imperial College London as a major academic institution and entrepreneurs and businesses is transforming White City into a global economic hotspot in the most innovative sectors of the 21st century economy. We want these opportunities to be open to the widest possible number of people which is why linking the work of our schools, apprenticeship programmes, youth services and retraining schemes is central to our approach. The growth and innovations being generated in White City is strengthening the UK economy and will shape the future for decades to come. It is a model for a new British industrial revolution."
Conceived in 2017, White City Innovation District is located in the heart of the London Borough of Hammersmith & Fulham, and is the nearest major business centre to Heathrow Airport, close to the West End and within easy reach of the City of London. Since launch, the District has constantly evolved and expanded and is now playing a pivotal role in supporting the success of breakthrough industries, innovative public services, and ground-breaking scientific research.
Prema Gurunathan, Managing Director of Upstream, the first-of-its-kind growth partnership between Hammersmith & Fulham and Imperial College London, commented: "In our work, we are constantly speaking to organisations based in White City Innovation District; what comes across is a real appetite to collaborate, innovate and work together to solve both common and global challenges. Across the Life Sciences roundtable, Deep Tech Network and Digital Creative Network West that Upstream helps organise, people are looking for opportunities to connect, exchange knowledge and make an impact".
Upstream recently released its Impact and Innovation 110 (II110) report – profiling 75 pioneering White City organisations that are leading the way in innovation and impact within the science, tech, creative and charitable sectors.
Ends—
Notes to editors
White City Innovation District website: www.whitecityinnovationdistrict.org.uk
Upstream's Impact and Innovation 110 Report: tinyurl.com/ii110list
Quotes from the White City Innovation District community
"Blenheim Chalcot has been in the borough for more than 20 years and in that time our business has developed over 40 successful digital ventures. We have become UK's leading venture builder, currently with 20 ventures and 4000 employees. H&F introduced us to Imperial College London which led to a joint venture and the building of our new global HQ in White City. We are excited about the prospects for White City which continues to benefit from H&F's coherent Industrial Strategy.'"
Manoj Badale, co-founder of Blenheim Chalcot
"White City is becoming an important hub for the UK life sciences sector. At Novartis, we are pleased to be right in the heart of this thriving health ecosystem. It gives us the exciting opportunity to work in closer collaboration with nearby key partners, including Imperial College London. Such partnerships are enabling greater innovation and helping us deliver on our purpose to reimagine medicine to improve and extend patients' lives."
Chinmay Bhatt, Managing Director of Novartis UK, Ireland & Nordics and Country President UK
"As a biotechnology company that is scaling fast, White City is the one place in London where you can get easy access to world-class researchers, talent, lab space and state-of-the-art equipment. The opportunities to collaborate and create value across multiple scientific disciplines are outstanding."
Anna Perdrix Rosell, Managing Director & Co-founder, Sixfold Bioscience
"White City is a vibrant location for Scale Space. Partnering with Imperial College London and with its Business School in residence, we are brilliantly placed to help tech, life-science and digital businesses grow rapidly, through practical business building know-how, high-quality academic input and access to research and talent. The Scale Space community is excited to be part of the White City Innovation District and as we return to normal, we want to interact more with the people who live and work here."
Michael Holmes, CEO, Scale Space
"We love being based out of Huckletree White City. The White City Innovation District is a great hub of like-minded professionals and friendly locals with a real community feel. There's no awkward lift rides or waiting at the lights, everybody nods their head, wants to know how your day has been and exchange thoughts and ideas."
The Collective Dairy
"From access to top scientific experts at Imperial College to advice on breaking into new markets, the networks in the White City Innovation District have helped Polymateria thrive."
Niall Dunne CEO – Polymateria
The White City Innovation District ecosystem is devoted to scaling businesses like Puraffinity: from experts in Imperial's network who advised how to commercialise our research, to RCA input at an early stage that improved our product, to our present day at Scale Space where we have access to a suite of diverse experts. We're proud to be here and excited to give back too – both to fellow startups and the local community."
Henrik Hagemann, CEO – Puraffinity
About White City Innovation District
White City Innovation District began life as a partnership between the London Borough of Hammersmith & Fulham and Imperial College London. Both were united in the belief that if Britain is to thrive in an increasingly competitive global marketplace, it must seek inclusive growth in the emerging sectors of the new economy.
White City Innovation District is where Hammersmith & Fulham's industrial strategy, Economic Growth for Everyone, met Imperial College London's world-leading science and research. Together, they laid the foundations for an ecosystem which has since attracted entrepreneurs and established innovators, all seeking new solutions to the world's greatest challenges.
Today, in White City, the future is being made.
PRESS CONTACT for White City Innovation District
Nicky Denovan
EvokedSet PR
Email: nicky@evokedset.com
Phone: +44 (0) 118 328 2782