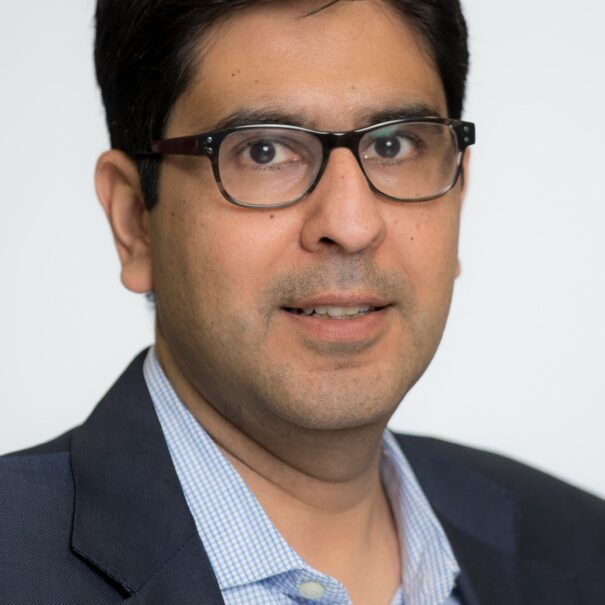 Interview: Professor Ramana Nanda, Institute for Deep Tech Entrepreneurship
Imperial College London's newest Deep Tech initiative, The Institute for Deep Tech Entrepreneurship, celebrated its official opening last month, in a special event addressed by Dame Kate Bingham, Professor Mary Ryan, Vice-Provost for Research and Enterprise at Imperial, and the new Institute's Academic Leader, Professor Ramana Nanda.
The new Institute aims to understand and address the key barriers to the successful commercialisation of Deep Tech ventures, building on Imperial College London's entrepreneurial culture, and its strong research foundation in Science, Engineering, Medicine and Business.
We spoke with Professor Ramana Nanda – Academic Lead of The Institute for Deep Tech Entrepreneurship – about the initiative, and its ambition to provide global leadership in creating the entrepreneurial funding models, processes and tools needed to successfully commercialise Deep Tech innovations emerging from universities.

Q: What motivated the founding of the new Institute?
A: Many of the most urgent and complex challenges that we face globally — from addressing climate change and developing sustainable food and water systems, to improving human health and wellbeing — depend on fundamental science, and engineering innovations that are often referred to collectively as "Deep Tech". It's the cornerstone of frontier technologies such as quantum computing, advanced materials, synthetic biology and more. Information Technology has led to the creation of the internet, which has been transformative, but our current and future challenges cannot be solved with IT alone.
We are now developing an understanding that the level of "Deep Tech" innovation required is increasingly coming from universities. At a time when companies and enterprises have been pulling back from investment in R&D investment and activity, it's clear that we need to support the fantastic advances that will emerge from universities, and that we need to deliver a better and more effective model of doing so – one that supports not only individual institutions like Imperial College London, but also supports other institutions, policy-makers and investors as important stakeholders in the commercialisation journey. That's really our motivation for establishing the Institute.
Q: What are the Institute's key aims?
A: Our goal is to nurture the development of the Deep Tech ecosystem as a whole, by understanding, exploring and eliminating the frictions that exist in bringing these advanced technologies to market.
At the very earliest stage of development for highly innovative technologies emerging from universities, investment risk can be difficult to price, since it's not always clear whether the solution will work at scale, for the target market or, indeed, at all. When it comes to attracting high-quality commercial investors, therefore, Deep Tech entrepreneurs are often competing against investments that could potentially be viewed as less risky, within less regulated markets, and with the opportunity for higher returns. So, the question for us is: how do we de-risk potential investments and advance them further on the commercialisation journey? Our major point of leverage here is that we have patience. We are investing our scientific expertise and internalising the costs and risks, because we believe that it is from our best institutions that the technologies to meet humanity's greatest challenges will emerge. By helping to progress these technologies further along the path to commercial viability, we can create high-quality deal flow for commercial investors and partners, delivering investment opportunities that are more likely to be commercially viable. That requires not only technical expertise, but bringing to bear effective use of grant money, developing commercial awareness and formulating IP strategies, understanding the regulatory environment and the role of governments, and deploying excellent project management skills – essentially, aiding the transition of technical teams to more business-oriented teams. We want to do the really hard work to ensure that great technology that needs to be out in the world can realise its potential.
With our DT Prime Fund, we are facilitating pre-commercial funding and support for Deep Tech "moonshots", whose needs are not currently being met through traditional technology translation models. We have ambitions to massively scale up this effort, with a goal of mobilising £50 million grant funding over 10 years to prime 160 pre-commercial Deep Tech moonshots – ranging from 6 to 18 months of intensive support for technical de-risking, combined with development of teams, intellectual property and business models.
Beyond supporting Imperial's own technologies to realise the impact they aim to have, we want to help policymakers and others in the ecosystem to effectively support Deep Tech. We therefore want to share evidence-based best practices for building Deep Tech ventures, which we plan to do through peer-reviewed research on topics related to Deep Tech commercialisation, as well as through a series of "Innovators Perspective" policy workshops that can highlight key issues and shape policy related to Deep Tech commercialisation.
EXAMPLES OF DEEP TECH INNOVATION
---
Clean and renewable energy
Grid-scale energy storage
New computing paradigms
Sustainable materials
Biomaterials and medical devices
Vaccines and Drug Discovery
Q: How important is White City Innovation District to the success of new Institute?
A: I think people are appreciating more and more that place-based developments are important in terms of generating high-quality opportunities for investors, and in creating centres of gravity that can drive the growth of ecosystems.
Those who have studied the history of agglomeration in the US have shown that if you look at the 1800s, the Silicon Valley of its time was around New England – the centre of cotton textile manufacturing (the frontier technology of its time). Then, in the 1900s, Cleveland in Ohio and Pittsburgh in Pennsylvania became the centres of the electricity and steel industries. Later, in the 20th Century, Detroit emerged as the epicentre of the car industry, and Boston began to develop its reputation as pharmaceutical and biotechnology hub. And, in the second half of the century, Silicon Valley in California emerged as the global hub of the semiconductor revolution. But until the 1980s, of course, Silicon Valley was nowhere near the powerful agglomeration it is today. The lesson here is that just because you happen to be the strategically important hub of your time, it doesn't necessarily mean that you will remain so.
It also means that, in trying to develop new agglomerations, it might make more sense to focus on the next set of frontier technologies rather than the ones that have already agglomerated elsewhere. I truly believe that the UK has a great shot at being a strong locus of Deep Tech agglomeration. A strong Deep Tech innovation ecosystem will be built upon great science, capital markets, strong entrepreneurial talent, and a government that is committed to providing the regulation and financing framework that can support growth. The UK is well-positioned on all counts. London is one of the leading global financial centres, and White City Innovation District as a whole epitomises all of the crucial ingredients needed for success.
"We want to do the really hard work to ensure that great technology that needs to be out in the world can realise its potential."
As a research-intensive university and top ten global institution, Imperial College London has a strong ability to collect data and systemically study some of the primary challenges that are being faced by Deep Tech start-ups, and what works for them and what doesn't. We're therefore in a unique position to offer leadership, and to make a significant contribution to the body of knowledge in this area.
Q: What do you consider some of the most exciting areas in Deep Tech today?
A: There are several areas of ongoing effort which are easier to bucket in terms of the challenges they are addressing than the specific technologies. Three areas where Imperial has also developed Global Challenge Institutes are related to 1) Technologies that are helping to expand the frontier of what is possible when addressing human health, from vaccines and biopharmaceuticals to medical devices and bionics; 2) Technologies looking to address climate change – from energy generation and sequester carbon; and 3) Technologies such as quantum computing and the next era of computing hardware that are not only important for continued advances in information technologies, but also seen as critical for defence and security.
Across all of these sectors, the competitive advantages within the UK – and particularly within Imperial College London and White City Innovation District – are exceptional. In healthcare and medtech, the UK as whole is a major innovator, and collaborations between Institute for Global Health Innovation, Institute of Infection, early-stage start-ups and diverse local NHS Trusts – including White City Innovation District's Hammersmith Hospital – are delivering completely unique opportunities for technology and market validation. With the role that the NHS can play as an anchor "first customer", it has the potential to be a sandbox for experimentation that is really unique.
Similarly, the College's Grantham Institute for Climate Change and the Environment is actively spearheading efforts towards the transition to a zero-carbon future, and the Energy Futures Lab is driving energy innovation and advancing systemic solutions for sustainable energy. Many of the solutions also sit at the confluence of chemistry and chemical engineering which are being driven at the Institute for Molecular Science and Engineering.
The new Centre for Quantum Engineering, Science and Technology at Imperial has an important focus on applications for quantum computing, and Imperial College London was recently announced as the location for one of two global headquarters for NATO's Defence Innovation Accelerator for the North Atlantic (DIANA) – achieved through the work of The Institute for Security Science and Technology (ISST), Imperial's hub for security and defence research, innovation, engagement and education.
By helping to unlock the Deep Tech potential from our institutions and supporting successful translation, we truly believe that The Institute for Deep Tech Entrepreneurship has a leading role to play in the development of a vibrant Deep Tech ecosystem in the UK and beyond.
For more information about The Institute for Deep Tech Entrepreneurship, please visit: Institute for Deep Tech Entrepreneurship | Research and Innovation | Imperial College London.