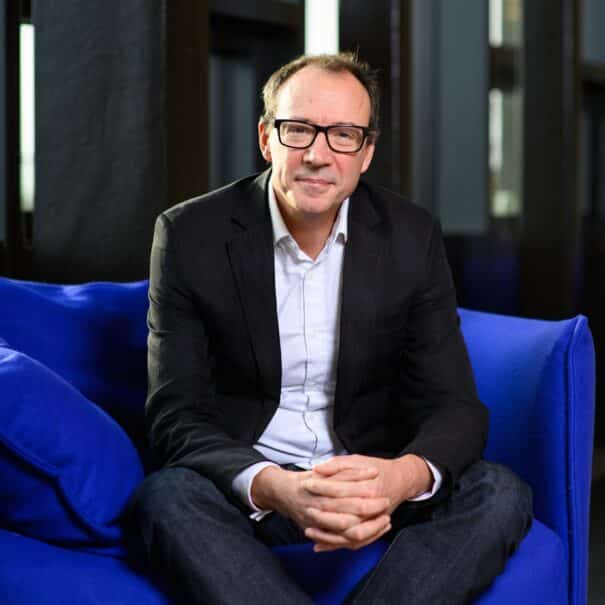 Igniting the digital media revolution: Spark Foundry
Spark Foundry is a global media planning and buying agency that sits within Publicis Groupe – the third largest communications group in the world, with almost a century's experience at the top of the industry. Spark Foundry works with some of the leading companies operating in the UK – including Asda, Currys, Jack Daniel's, GSK, LMVH and Meta – delivering services spanning brand strategy, data analysis and media planning and buying.
With more than 3,000 employees based in 60 offices around the world, including in the US, MENA, Poland, Australia and China, Spark Foundry's UK operations are now based at the iconic Television Centre in White City Innovation District, as part of Publicis Groupe's major presence within White City.
For our blog, we spoke with Spark Foundry CEO Pete Edwards about Spark Foundry's work, its ethos, and what's next for the business.
Spark Foundry is a global media agency brand within Publicis Groupe, one of the oldest, largest and best-known marketing and communications companies in the world. Founded 25 years ago, Spark Foundry's mission and services have expanded with the rapid growth of digital marketing, but the company is still focused primarily on helping clients to reach their key audiences, as CEO Pete Edwards explains: "We offer media services, insight generation, data analytics, measurement, sponsorship – anything and everything that sits within a client's needs to communicate." The long-term success of the business has been built around its core competence and expertise: media planning and buying. "Essentially, we activate advertising campaigns – delivering messages at the right time, in the right place, and making the process as efficient and effective as it can be," adds Pete.
The agency works with a broad cross-section of clients – from multinational blue-chip companies to SMEs – across sectors spanning retail, luxury good and finance, supporting clients who are looking to drive change and boost sales through advertising and marketing programmes.
The company has been based at the iconic Television Centre campus for almost five years, with its nearly 500-strong team occupying two floors within the building, alongside almost 2000 Publicis Groupe colleagues. The Spark Foundry White City team includes its trading and media buying division, strategists and advisors, client service relationship managers, data and analytics specialists, content and social media professionals, and SEO and Pay-Per-Click experts. The agency is also actively developing a significant emerging capability in Amazon-powered commerce and e-commerce.
In an industry accustomed to the swift pace of change, the single biggest transformation that the agency has observed over past few decades has been the digitisation of every aspect within the media. "You used to buy an advertising slot on television, and a box placed in around 5000 homes would measure the sample size. Now, we have the ability to access very detailed data on advertising consumption – who, when, what and where," comments Pete. "We are able to understand precisely where someone might be within the customer journey so, whether they've just bought a product or are still researching. Within that data footprint, we have a fundamentally better understanding of how we can talk to customers with the right message."
As Spark Foundry has grown to support the increasing demand for its services, being located within White City Innovation District has offered clear and tangible benefits across the business, as Pete notes: "It's just a great location – it's really well positioned and with good transport links to access the centre of London, so we can easily meet clients and media owners, which is really important for us."
A key focus of the agency's growth ambitions is to drive diversity. Currently, 29 per cent of the team is from an ethnically diverse background, and the business is committed to going further across all areas, including a major push on neurodiverse inclusivity. "We're very passionate about driving diversity, and we highly value the wider array of experience, backgrounds and ways of thinking that a truly diverse workforce brings. It's a moral imperative for us, as well as a commercial one," says Pete. "The better understanding we have of everyone in our society, the more creative we can be in creating smart campaigns to reach people."
The company is also proud to have a zero gender pay gap, and its intention is to continue growing in the most diverse way possible, building upon Spark Foundry's foundations as an inclusive, fun and stimulating place to work. "We have grown exponentially over the last three years, taking on 185 people within just the last few months alone. It's been an incredible journey developing and nurturing our brilliant new joiners, and encouraging that sense of belonging," Pete remarks.
"It's been an incredible journey developing and nurturing our brilliant new joiners, and encouraging that sense of belonging."
From a commercial perspective, the next phase for the business will be focused on client acquisition and retention, cementing existing relationships and supporting clients, in partnership, to be successful. From a White City perspective, Pete says that the agency is seeking to strengthen its engagement within the community: "We want to have more impact on our local community and charities on the ground. We're currently looking for local graduates in Data Science to work in our data analytics and measurement teams, plus we're committed to taking on young people from local schools for internships and apprenticeships."
So what's the next challenge ahead for this fast-moving sector? "It's an exciting industry to be in – because it's about human beings and changing behaviour, you're operating in an environment that's constantly changing and evolving," observes Pete, in closing. "For me, the intellectual challenge of trying to understand what makes people behave in a certain way will always be fascinating."
To explore more about Spark Foundry's career opportunities, please visit: Careers | Spark Foundry (sparkfoundryww.com)