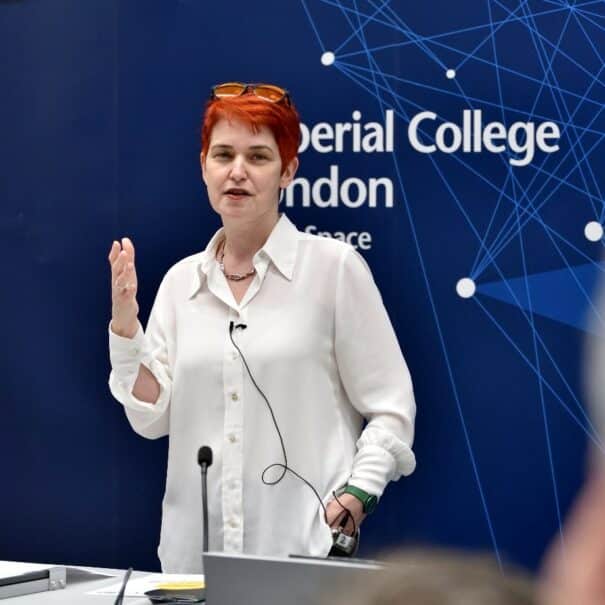 First ever Jawdrop Summit energises UK's life science innovators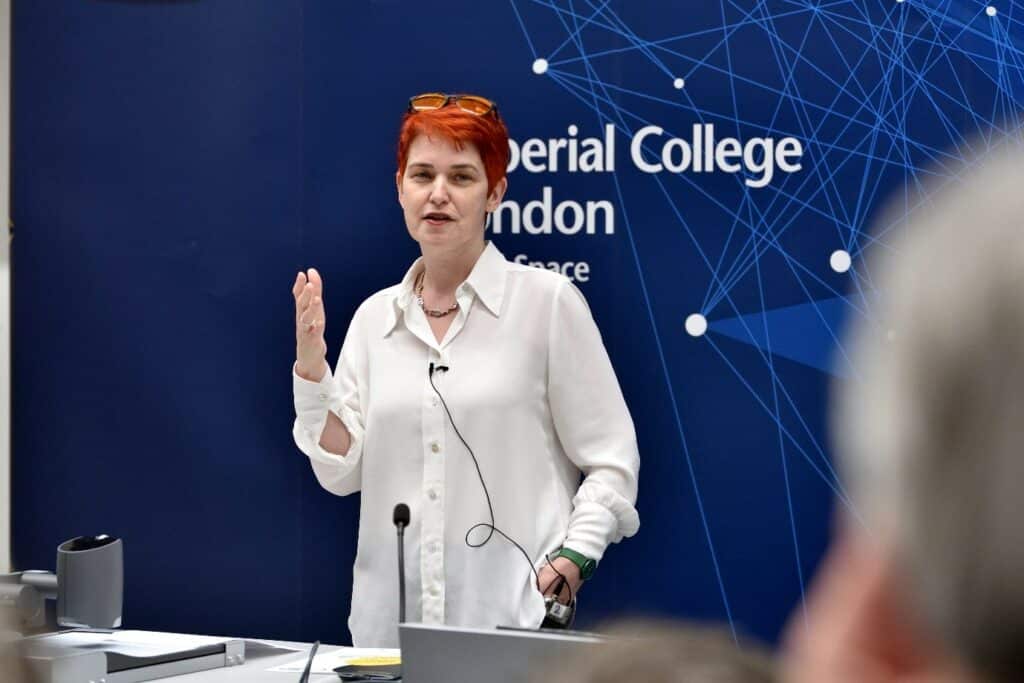 White City Innovation District played host to the first ever Jawdrop Summit for the life sciences earlier this month, with close to 400 attendees from across the UK innovation ecosystem gathering at the Molecular Sciences Research Hub to hear insights from world-leading scientists and technologists driving cutting-edge research in life sciences, deep tech and AI.
The sold-out event was opened by Professor Mary Ryan, Imperial College London Vice-Provost (Research and Enterprise). In her speech, Professor Ryan highlighted the success of Imperial's partnership with the London Borough of Hammersmith and Fulham – which led to the creation of White City Innovation District – and the unique strengths of WCID's community in working together to "make a lasting and positive impact for those who live and work in White City." She concluded by paying tribute to the District's emergence as a global innovation hub, and its now pivotal role in supporting the success of breakthrough industries, innovative public services, and ground-breaking scientific research.
10 JAWDROPPING MOMENTS
Punching in the Goldilocks Zone: Complex challenges require multiple stakeholders – and just the right conditions – to resolve them. Nowhere else is this more visible than in White City, where you have a "Goldilocks" confluence of academics, innovative ventures, big corporates and government working together to build "a centre of gravity where excellence happens", as Cllr. Stephen Cowan observed. Steve Bates of the BIA concurs that White City is "small enough to be networked" but "packs a punch big enough to be noticed on the global stage".
Data Nation: What we might take for granted – i.e. NHS data being available for use by universities to advance science – is in fact an absolute prerogative of the UK, as was demonstrated during COVID. We should recognise the value of that, and harness it as a real differentiator.
No growing pains: The ability to grow without needing to leave an ecosystem is key, as Chris Williams from Autolus highlights. The company has moved to several different locations as it has grown, but always within the White City area, ensuring no loss of momentum or staff.
It's always Pharma season: If the investment cycle is at the "high tide", a pharmaceutical company will still invest in a start-up if there is data that proves the impact of its innovations. This is irrespective of VC behaviour and valuations. It's just they will have to pay more or less, says Avi Spier of Novartis.
Hopeful Note 1: Businesses that are doing something important will successfully find capital, assures Martin Murphy.
Hopeful Note 2: If you need £2-3 million funding to conduct small, pre-clinical experiments, funds often work together to put money aside for academic labs to enable them to validate the science, says Leigh Brody of Albion VC.
Don't underestimate the importance of people: Raise more capital than you need, and use that extra capital to go and hire some great people, advises Russ Cummings of British Patient Capital.
Whither productivity?: "Robert Solow once said, I see computers everywhere apart from in the productivity statistics. My modern quote is, I see AI everywhere, apart from in the productivity statistics", says Prof. Neil Lawrence, as he explains the similarities between the two.
Creative algorithms: Eleanor McLaurin of Medidata Acorn AI reflects that "even if you're speeding up a process, there's still creativity in how you train those algorithms."
Court date: On ChatGPT, Anjali Mazumder of the Turing Institute predicts that information will be "used and re-used, we still haven't really seen how the courts are going to really handle that."
Conference Session
Panel 1: Hard-wiring Collaboration into the Life Science community in White City
Chair, Professor Oscar Ces, Head of Chemistry Department, Imperial College London
Chris Williams PhD, SVP, Corporate Development, Autolus
Dr Fiona McLaughlin, Chief Scientific Officer, Avacta
Steve Bates OBE, CEO, BioIndustry Association
Councillor Stephen Cowan, Leader, Hammersmith & Fulham Council
Panel 2: AI for good business: using information better and more responsibly
Co-chair: Professor Aldo Faisal, Professor of AI & Neuroscience at Imperial College London
Co-chair: Sophia Yaliraki, Professor of Theoretical Chemistry, Imperial College London
Eleanor McLaurin, Solution Specialist, Medidata Acorn AI
Neil Lawrence, DeepMind Professor of Machine Learning, University of Cambridge
Anjali Mazumder, AI and Justice & Human Rights Lead, The Alan Turing Institute
Panel 3: How do we fund the life sciences? Reflections from investors in the ecosystem
Chair: Tina Tan, Executive Editor, FirstWord HealthTech
Dr. Avi Spier, Executive Director, Search & Evaluation, NIBR BD&L, Novartis Institutes for BioMedical Research
Leigh Brody PhD, Investment Manager, Albion VC
Dr. John Lee Allen, Managing Partner, RYSE Asset Management
Russ Cummings, Chairman, British Patient Capital
Martin Murphy, CEO and Chair, Syncona Investment Management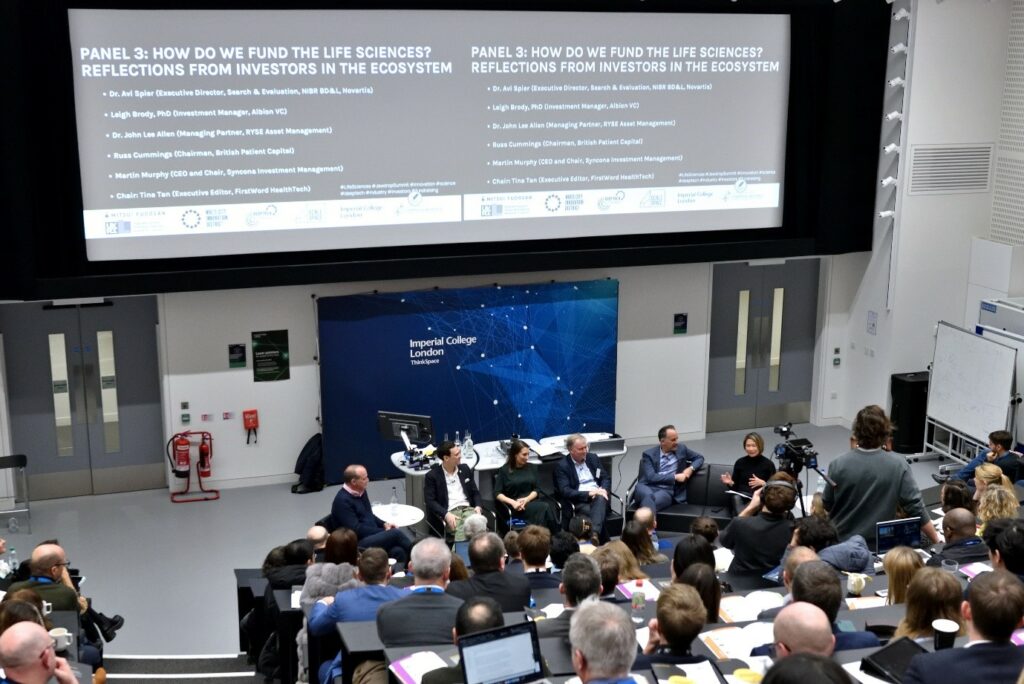 The event closed with a packed networking reception at White City Place, and a chance for the energised attendees to get together and digest the fascinating take-aways and food for thought delivered by the inaugural Jawdrop Summit – the first, we hope, of many.
Watch all three panel sessions in full here.