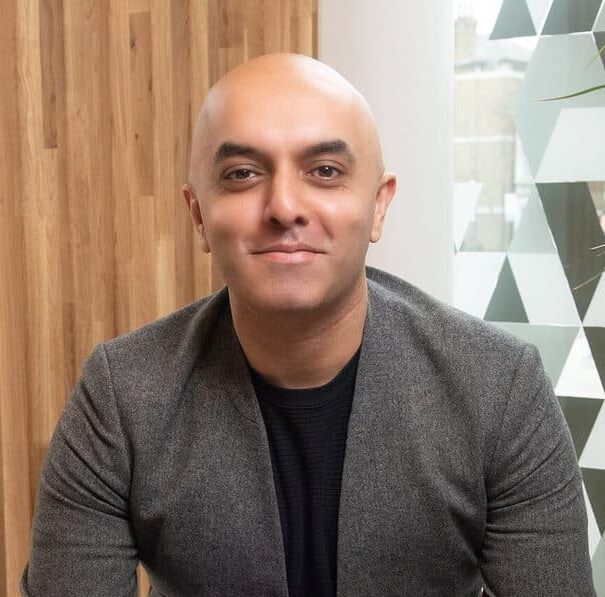 Day in the Life of Rakesh Tailor, Founder & Creative Director of Fresh Canvas and Kishindo Renzo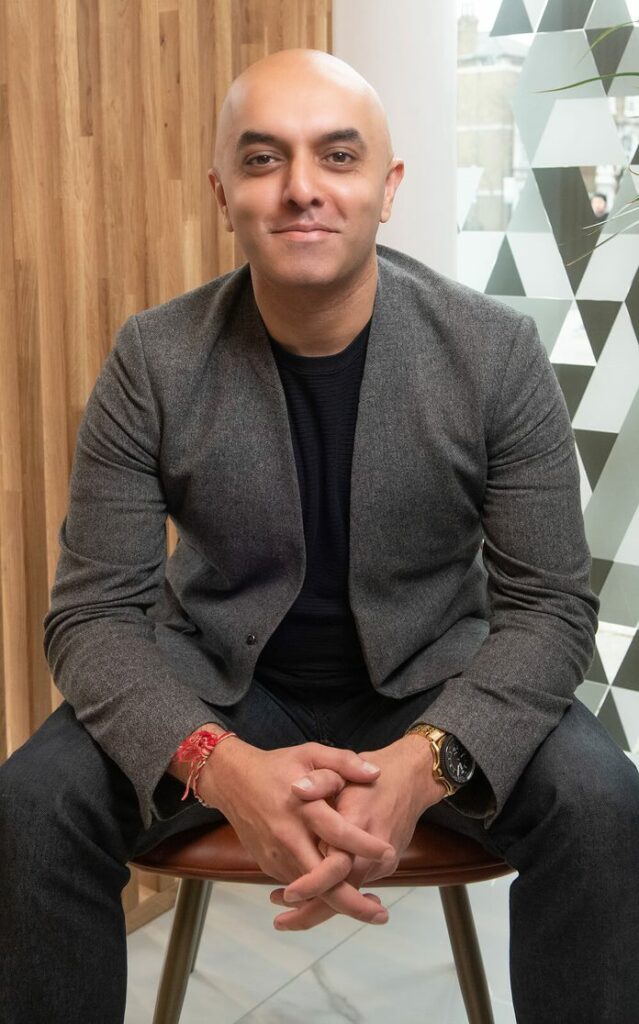 Rakesh Tailor is the founder and creative director of two businesses in White City Innovation District – Fresh Canvas, a multi-disciplined, award-winning creative agency based at Soho Works, Television Centre, and soon-to-be-launched fashion label Kishindo Renzo.
Growing up around the fashion manufacturing industry and with a strong creative streak, Rakesh began crafting handbags and small leather goods from the world-renowned Cordwainers at the London College of Fashion. Rakesh has since gone on to design for a number of UK and global brands specialising in leather goods. He works widely with both fashion and non-fashion businesses, delivering specialist consultancy across strategy, branding and marketing, web design, graphics and print, plus photography and video.
Partnering with charities and universities, Rakesh has been passing on his knowledge and experience with students and graduates in creative fields and continues to mentor start-ups in a range of industries to help solidify their brands and help them get to market. Organisations that Rakesh has supported include London College of Communication, London College of Fashion, Upstream, Business Education Events, Community Links, and Central Working.
Q: What is a typical day like for you?
A: Being the founder of two businesses, a typical day for me is always exciting and unpredictable. For the creative agency, my days are filled with a wide range of activities, including working on client branding, websites, strategy and so on. I work with a variety of industries, from biotech to education, and skin clinics to fashion, so no two projects are ever the same. I get to pick up a lot of knowledge along the way, which is great.
In contrast, my days with the fashion brand are focused on bringing my designs to life, from dealing with leather suppliers and factories to working on packaging and marketing materials. No matter what I am working on, each day is filled with challenges and opportunities, and I love the excitement and variety that comes with running my own businesses. It also helps that I live ten minutes from the office!
Q: What do you love about working in WCID?
A: White City is an exciting, dynamic, and vibrant place to work. It's a hub of creativity and innovation, where professionals can come together to share ideas and push the boundaries of what's possible. The energy and enthusiasm of this community is contagious, and I love being surrounded by like-minded people who are passionate about their work. Additionally, the city of London itself is an amazing place to live and work, with so many things to see and do. I love the rich history, the diverse culture, and the endless opportunities that this vibrant city has to offer.
Q: Why have you chosen to bring your businesses here?
A: I have chosen to bring my business to White City Innovation District because it has a vibrant and thriving community of businesses and entrepreneurs. Over the past five years, I have watched the local area transform, with the expansion of Westfield shopping centre and the arrival of a wide range of businesses in multiple industries. This has created a dynamic and exciting environment that is perfect for a start-up like mine and also for my agency as most businesses need help with branding and websites.
Additionally, the community feel of the area and the opportunities for networking with other business owners are invaluable. And with the shopping centre right on my doorstep, it's easy for me to do research and stay on top of the latest trends and developments in the fashion industry. Overall, I am excited to be a part of this vibrant and growing community, and I look forward to seeing what the future holds for my businesses here.
Q: What does 'innovation' mean to you and how does your company contribute to it?
A: To me, innovation means constantly striving to improve and do things better. It means looking at a problem or challenge from a new perspective and finding creative solutions that others may not have considered. At Kishindo Renzo, we embrace this spirit of innovation in everything we do. Our products have a minimal aesthetic but are functional at the same time. We are committed to producing high-quality products in small batches, which allows us to maintain strict quality control. Additionally, we have a charity-giving aspect to our business, where we contribute to a month's worth of children's education for every product sold. This approach allows us to make a positive impact on the world while also delivering exceptional products to our customers.
Q: What are you most proud of in your current role?
A: As the founder of my own fashion brand, I am most proud of the progress I have made after years of hard work and dedication. Starting a business is never easy, and there have been many challenges along the way, including the impact of the COVID-19 pandemic. But despite these obstacles, I persevered, and I am looking forward to launching Kishindo Renzo in 2023. Seeing my designs and vision come to life and receiving positive feedback has been incredibly rewarding and has made all of the hard work and effort worth it.
Q: What is the hot topic in your industry?
A: The fashion industry is increasingly focused on sustainability and ethical production, which presents its own set of challenges. Brands are looking to find ways to produce products in a way that is environmentally friendly and socially responsible, which can be difficult to achieve with rising costs due to Brexit and inflation. I think it's a balance of brands and consumers taking responsibility.
Q: What's the best business advice you have for people looking to break into your field?
A: The best advice I have for people looking to break into the creative industry is to never stop learning and growing. In this field, it's important to constantly challenge yourself and push the boundaries of what you're capable of. This means staying up to date on the latest trends and techniques and seeking out new opportunities to learn and improve your skills. Additionally, it's crucial to network and build relationships with other professionals in your field. These connections can open doors and provide valuable opportunities for collaboration and growth. Ultimately, the key to success in the creative industry is to stay curious, stay focused, and never stop striving to be the best.
Q: What would Plan B have been on the career front?
A: I think I would have been drawn to the world of music or cooking. These fields have always been something I've considered as a potential "plan B" or side hustle. As a musician, the idea of composing my own music and performing for audiences would have been fulfilling. (I'm known as Lionel in some post codes). Cooking, on the other hand, is like a delicious puzzle that I can't wait to solve. I love experimenting with different flavours and ingredients.
Even though I haven't officially pursued these paths, I believe they would be incredibly rewarding and enjoyable. However, I never say never and who knows what the future may hold! Maybe someday you'll see me DJing at Café Kishindo. I keep my options open and my creativity flowing! Watch this space!