ClimateTech leaders give green light to unlocking UK potential at Jawdrop Summit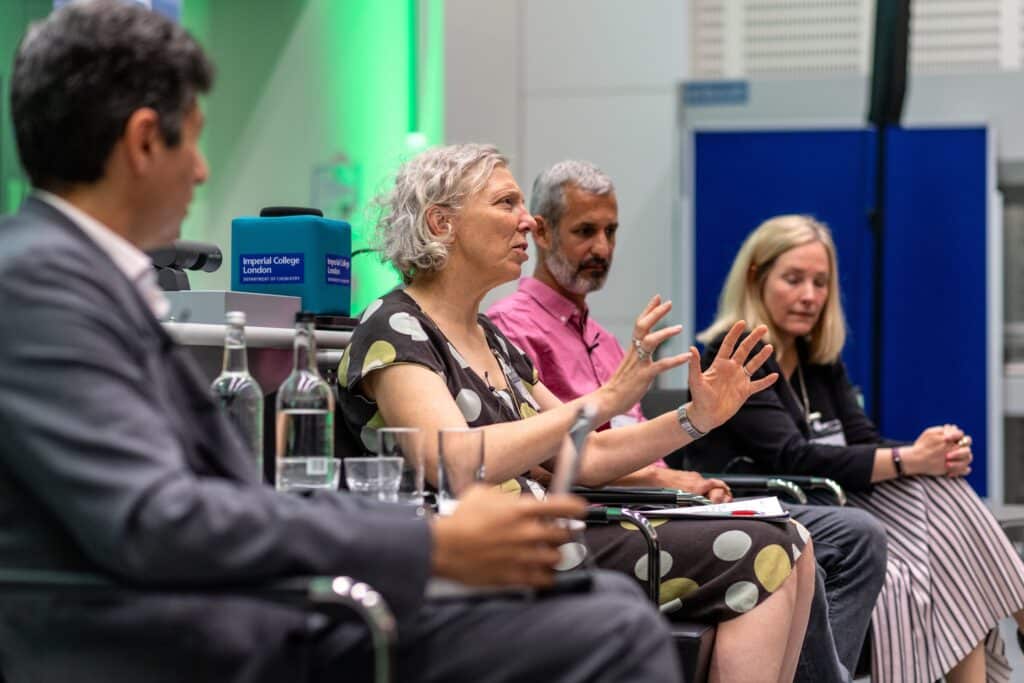 White City Innovation District last week welcomed the UK's ambitious community of climate technology innovators, policy makers and investors for Jawdrop Summit: ClimateTech – the first Jawdrop event focusing exclusively on ClimateTech and the second in our brand series. Almost 200 delegates convened at the Molecular Sciences Research Hub in White City Campus to explore ways of removing barriers and accelerating innovation in the globally significant ClimateTech sector. The event programming was led by White City Innovation District, in partnership with the Deep Tech Network, Imperial Policy Forum and Undaunted.
As they gathered for the summit, delegates had the opportunity to meet with some of the transformative climatetech businesses that are delivering world-changing innovation from their base in White City Innovation District in the ClimateTech Innovators Showcase, which ran throughout the event.
Opening the conference session, Richard Youngman – CEO of Cleantech Group – began by providing his authoritative insight into the UK's position and context within the global climate issue, and the drivers and cyclical nature of investment. He went on to discuss the critical materials and solutions that every country, including the UK, is going to require access to – from optimised battery storage to improved solar power – if we are to scale at the pace needed to deliver against the Paris agreement objectives by 2030. Richard then looked ahead to the challenges of achieving Net Zero by 2050, and the need to move innovators who are now at the small-scale lab stage quickly through to commercialisation within the next decade, to ensure that they can deliver a meaningful impact on those goals. He ended with a call to "level the playing field" for innovative companies, and for policies and approaches that can support new ways of solving the emissions pathway and help companies to scale up their growth and manufacturing to deliver the solutions that are so vitally needed.
10 Jawdropping Moments
Don't get left behind: The UK was the first major economy to pass a Net Zero emissions law. However, a recent report by the Committee on Climate Change (CCC) described the UK as losing "its clear global climate leadership" role due to "failure to act decisively". With the EU and the United States passing huge climate and Net Zero spending pledges, including the Inflation Reduction Act, does the UK risk being left behind? Professor Mary Ryan commented: "In the UK there is a huge opportunity to accelerate our own energy transition – bringing with it added benefits of greater energy resilience and security. But we also can use this moment to create new industries, jobs and prosperity. We have the ideas, talent, and skills to make the UK the most attractive country for climate innovations – but we need government to commit to funding, policy and regulations that are competitive in the global market."
It takes a village: Climate change is a complex, global challenge requiring multiple stakeholders – and public support – to tackle it. White City Innovation District provides a confluence of academics, innovative ventures, investors, communities and government working together to secure a stable future. Alyssa Gilbert, Director of Undaunted, said innovation hubs should collaborate more often as "it takes a village to grow a start-up".
People power: ClimateTech will catalyse transformation in people's lives and the systems that affect them. Making sure there is an effort to explain and reassure people will help increase support and understanding for new technologies. Where progress has been made, planning is hindered progress. During her panel, Sarah Mackintosh, Director of Cleantech for UK, raised the issue of members of the public being interested in installing heat pumps but not being granted planning permission.
Not just Tech: Innovation doesn't just mean new technology and product. It means thinking differently across an entire ecosystem. Jane Dennett-Thorpe from Ofgem reflected on the importance of innovation in regulation, highlighting Ofgem's regulatory sandbox as an opportunity for companies to test their assumptions in a less regulated environment and fast track delivery.
Building the skills of tomorrow: Increased use of ClimateTech will shift demands in the labour market. It is important to support these changes with targeted training, reskilling and support for labour transition. As Professor Mary Ryan noted, 90% of the greens jobs of the future are set to be non-graduate jobs.
Powering up the UK: Decarbonisation means that the energy sector is facing an overhaul of the power system. Incorporating new supply points, new types of fuel and new energy storage solutions are essential for a successful transition to Net Zero. Collaboration is needed to upgrade the sector to deal with modern scale and challenges.
New technologies to support existing industries: The development and deployment of new technologies could have a transformative impact on existing industries such as steel and concrete production. Technologies can help capture emissions from hard to abate sectors, but also reduce CO2 production. WCID's Deep.Meta use Artificial intelligence (AI) to optimise production efficiency to deliver cleaner steel mills.
Nurturing hubs: Stephen Cowan, Leader of London Borough of Hammersmith and Fulham Council spoke about his role as a "gardener", planting the right seeds to allow an ecosystem to flourish and benefit from "serendipity innovation".
Saving the planet profitably: The transition was described as the growth opportunity of the 21st century by Mission Zero author Chris Skidmore MP. Christina Chang, Partner at Lowercarbon Capital, said the investment landscape has shifted, and that it now makes money to do the right thing. Great innovations can save the planet and be profitable investments.
Talent spotting: Attracting and nurturing talent to help solve the key challenges in climate tech will be crucial. Sarah Hunter, non-executive director at the UK's new innovation funder, Advanced Research & Invention Agency (ARIA) said that its approach would focus on getting top talent into key roles to drive forward innovation rather than on specific technologies.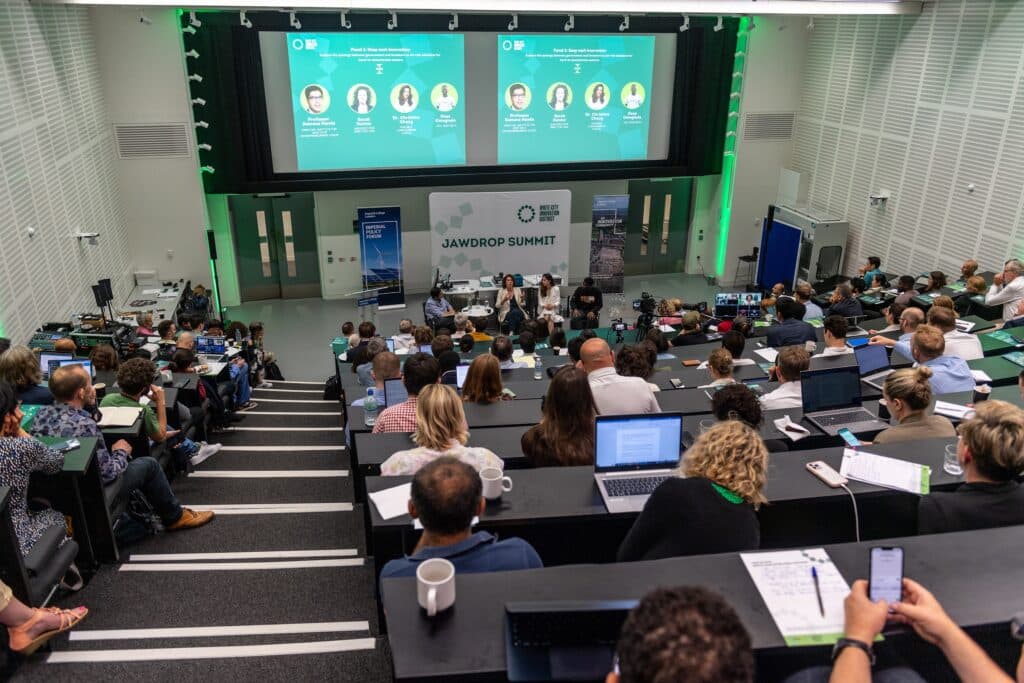 Conference Session
Panel 1: Unlocking Energy Innovation – how policy levers can be used to deploy clean technologies, lower prices, and improve supply resilience
Chair, Professor Omar Matar, Head of Chemical Engineering, Imperial College London
Jane Dennett-Thorpe, Deputy Director for Net Zero, Ofgem
Tim Von Werne, Chief Executive Officer, RFC Power
Sarah Mackintosh, Director, Cleantech for UK
Panel 2: Deep Tech Innovation – the synergy between government and investors to de-risk solutions for hard-to-decarbonise sectors
Chair: Professor Ramana Nanda, Director, Institute for Deep Tech Entrepreneurship, Imperial College London
Sarah Hunter, Non-Executive Director, Advanced Research and Invention Agency (ARIA)
Dr Christina Chang, Partner, Lowercarbon Capital
Osas Omogiade, CEO, Deep.Meta
Panel 3: Creating ClimateTech Ecosystems – how knowledge exchange, access to talent and investment can establish White City as a dynamic hub for climate innovation
Chair:Professor Mary Ryan, Vice-Provost (Research and Enterprise), Imperial College London
Alyssa Gilbert, Director, Undaunted
Councillor Stephen Cowan, Leader, London Borough of Hammersmith and Fulham
Reka Tron, Co-Founder and Chief Operating Officer, Multus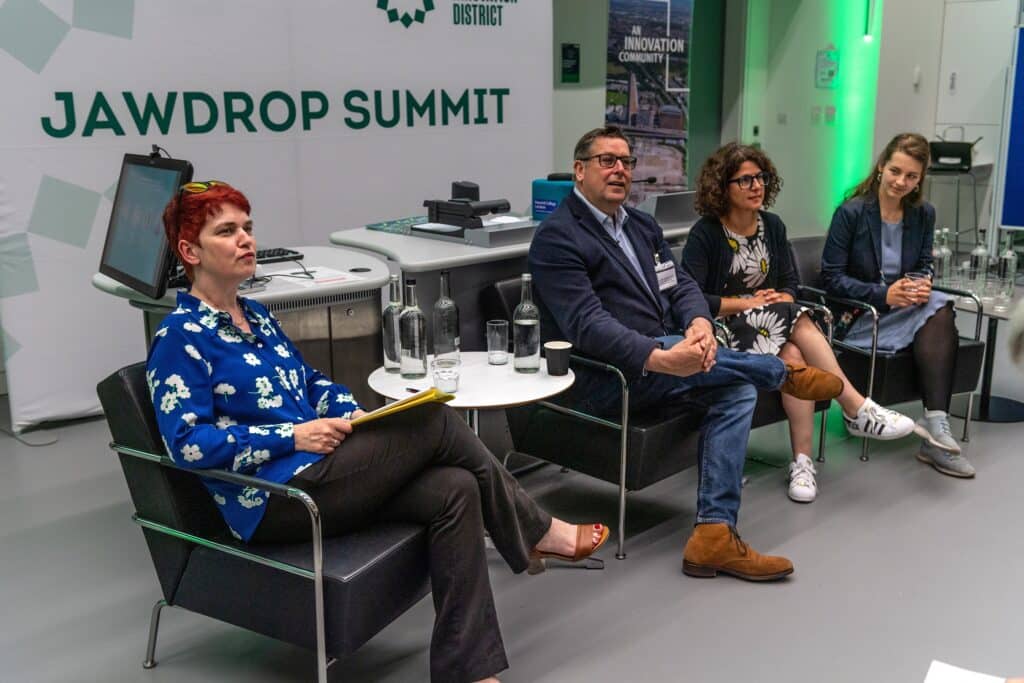 With the panels and audience questions concluded, a lively networking reception was held at The Works in the Sir Michael Uren Research Hub. This post-event wind-down provided a valuable opportunity for attendees to network, and make the synergistic connections that will ensure that the UK can play a dominant role in delivering the ClimateTech solutions to secure a sustainable future – for everyone.
You can watch the keynote presentation and all three panels in full at the links below:
Credit for all photos: fergusburnett.com