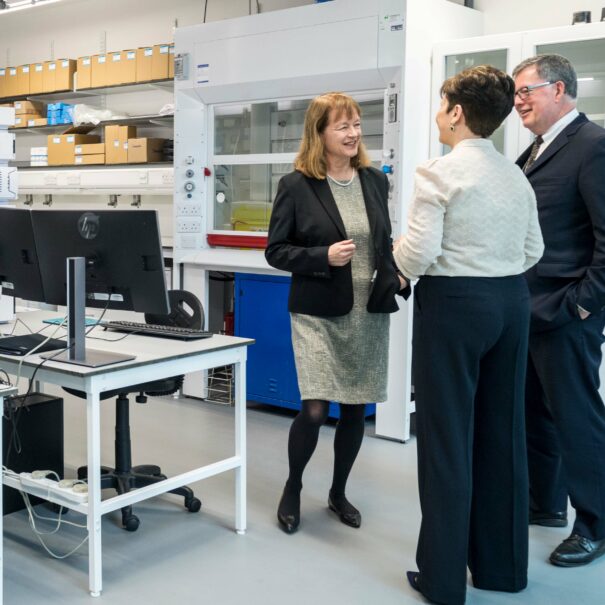 Blog: A message from the President of Imperial College London
The world's most significant innovation districts, like Silicon Valley and Cambridge Massachusetts, share one thing in common: leading universities such as Stanford, MIT and Harvard play a leading role. These thriving ecosystems are an important guide as the White CIty Innovation District embarks upon its next stage of growth.
Like the early days of Silicon Valley, in White City entrepreneurs are clustering with academics, established industry and a vibrant local community. Scientists, engineers, medics and businesspeople are co-locating and co-creating on an unprecedented scale, and investors are taking note.
The White City Innovation District is home to some of the world's most innovative organisations, spanning life sciences, deep tech, media and the creative arts. Imperial staff and students are co-located in multidisciplinary research facilities like the Sir Michael Uren Hub for Biomedical Engineering and Molecular Sciences Research Hub, innovation spaces like the Translation and Innovation Hub (I-Hub) and ScaleSpace and are inspiring the next generation of innovators in The Invention Rooms. Next door, our medical research goes from strength to strength in partnership with Imperial College Healthcare NHS Trust at Hammersmith Hospital
At Imperial, we will continue to build upon our talent base, research environment, community partnerships, collaborative culture and physical presence to drive forward our vision for the district.
Our Business School's new facility at ScaleSpace provides opportunities for students, researchers, industry partners and entrepreneurs to experiment and collaborate in a multidisciplinary business innovation hub. Our new I-X initiative will bring together Imperial's strengths in data, AI, computing and maths in the (I-Hub) to drive the smart society of the future. Our new School of Public Health facility will house a unique combination of world-class research at local, national and international level with translational work within the Academic Health Science Centre in the Imperial College Healthcare Trust – its research, teaching and evidence-led policy work will address the major public health challenges of the twenty-first century.
Well-known elements of a thriving innovation ecosystem are talent, capital and a culture of risk-taking. At White City, we have all three in abundance. The White City Innovation District is creating opportunity, transforming lives and fuelling the next generation of innovators. We encourage ambitious and creative entrepreneurs, businesses and investors to join us.
Professor Alice P. Gast
President of Imperial College London