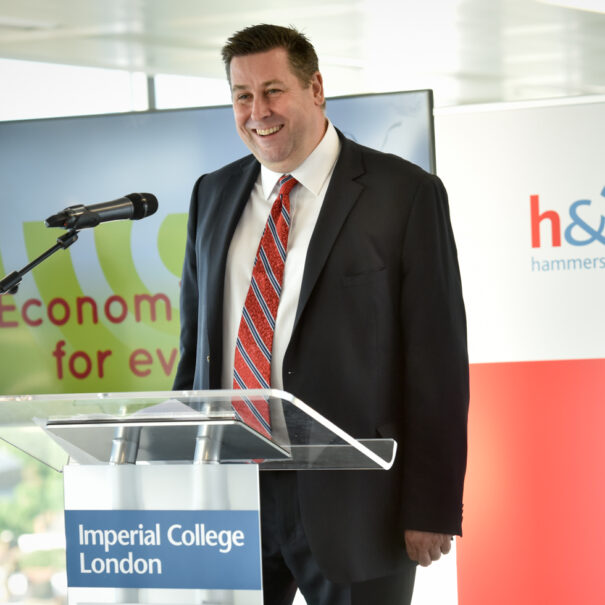 Blog: A message from the Leader of Hammersmith and Fulham
The inclusive growth partnership between the London Borough of Hammersmith & Fulham and Imperial College London is fast transforming White City into a global hotspot in the most innovative sectors of the 21st century economy. It is a model for a new British industrial revolution.
Launched in 2017, our partnership combines the infrastructure, planning, education, and soft powers of local government with the genius of Imperial. Its mission is to encourage and attract start-ups, scale-ups and anchor businesses specialising in the STEM, medicine, and media sectors. We set up Upstream to provide targeted business support – helping businesses tackle challenges and to grow.
At the heart of our Borough's economic strategy is the £10bn regeneration of White City, a world-leading innovation district that is strengthening the economy and set to generate ever more opportunities across the UK. Since 2017, over 6,000 new jobs have been created in the green economy, the software industry, medicine, digital and biotech. We've attracted global multinationals, like Novartis, ITV, and biotech pioneers like Synthace and Autolus. White City Incubator companies have raised over £100m and over 60 life science businesses have been created or grown. To accommodate this expansion, we've delivered over 1.5 million square feet of high-tech workspace and more than 2,000 new homes to help local people work and live locally.
Five years on, H&F, just one of London's 32 boroughs, is the now UK's sixth most competitive local economy in the country.
Our vision for our economic eco-system drew inspiration from the German Länder and city states, whose approach to facilitating all the factors necessary for inclusive growth have been crucial to in the Federal Republic's 75-year economic miracle. But our plan was also guided by California's Bay Area and Massachusetts' Kendall Square where their practical links between world-leading academic intuitions, city authorities, government agencies, and the vibrant tech sector have transformed them into world leaders in technological innovation.
As the world faces new challenges, it will need new smarter solutions that shapes how we live and changes the world for the better. That's what the White City Innovation District is all about. It's an approach linked to the heritage of Britain's first industrial revolution. It's something that makes White City one of the few places anywhere to be able to proclaim, "tomorrow is made here".
Cllr Stephen Cowan
Leader of Hammersmith & Fulham